Skip to Main Content
It looks like you're using Internet Explorer 11 or older. This website works best with modern browsers such as the latest versions of Chrome, Firefox, Safari, and Edge. If you continue with this browser, you may see unexpected results.
Getting started with Task 3
Before you start researching, make sure you understand what your assessment is about.
Visit the Assignment Calculator and work out a time frame for Task 3.
Library resources
The search links below are examples of how you might search the USC Library's Search tool to find books and journal articles. You can change the search terms and use the filters at the left to modify or refine your results. See the Start Here page in this guide for tutorials and search tips.
Lowitja Institute: LIt.Search

A "filter" that allows easy access to predefined sub-sets of the large PubMed database index of medical and allied health literature; limiting results to different aspects of Aboriginal and Torres Strait lslander health.
Database tips
To search this database, click the button next to the relevant topic (you will only be able to choose one) and then add any keywords. Hint: Change the Published date to the last 5 years:
Create a search string using boolean operators (OR, AND), truncation (*) and nesting (brackets). Alternative terms can be placed in brackets. To search more broadly, leave out a concept e.g. racism OR discrimination.
For example:
OR
Build a search in Web of Science by clicking +Add row. A different concept goes on each line:
Build a search in Informit using the Advanced Search and by clicking on the cross to add each row. You will need to search very broadly in this database. For example:
For this assignment, try using the Sex, Pregnancy and Geographic Subset limiters (where relevant) in Cinahl. If you aren't getting enough results, undo some of the limiters and/or use less concepts.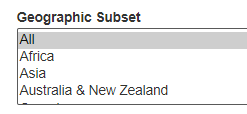 Found a good article but Cinahl doesn't have full text? Click on Search for Full Text:
© University of the Sunshine Coast, Queensland, Australia | ABN 28 441 859 157 | CRICOS Provider No. 01595D